NIBIO Svanhovd Conference Centre
Our conference center is a unique meeting place for courses, conferences and accommodation. At Svanhovd, visitors can also experience our botanical garden and Visitor Centre Øvre Pasvik National Park. For booking: +47 46 41 36 00, email svanhovd@nibio.no.
NIBIO Svanhovd Conference Centre is located in scenic and quiet surroundings in the central part of the Pasvik valley, in Finnmark. An informal and good atmosphere creates an inspiring meeting point for courses and conferences, and a comfortable accommodation for visitors.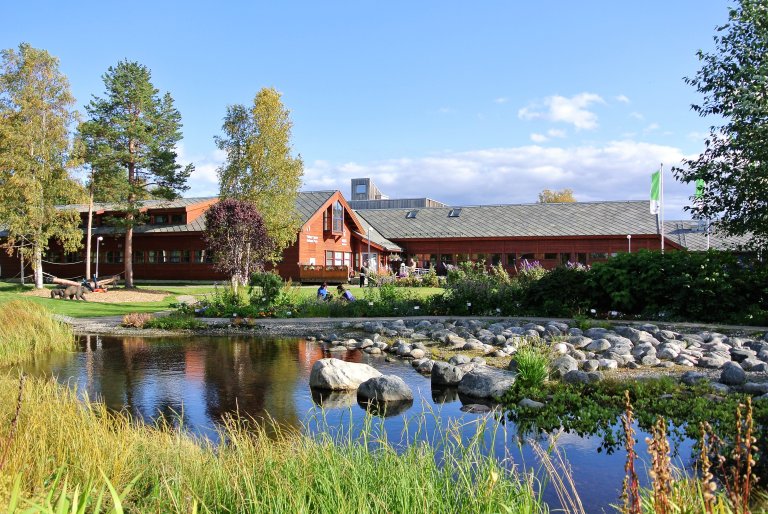 NIBIO Svanhovd Conference Centre is located 40 kilometers south of Kirkenes. Both SAS and Norwegian have direct flights (2 hours) from Oslo Airport Gardermoen.
We can offer accommodation in beautiful surroundings for 50 persons (single and double). At larger events the capacity can be expanded by using nearby facilities.
Accommodation
All rooms have private bathrooms. Guests are free to use Svanhovd's fireplace lounge, TV lounge, sauna and laundry room.
Meeting Facilities
NIBIO Svanhovd Conference Centre offers various rooms for meetings and conferences:
Auditorium with seating for 80 people, possessing modern and traditional equipment for presentations in addition to simultaneous interpreting.
Meeting rooms with space for 10 to 30 people and group rooms.
The meeting rooms have panoramic views to Svanhovd surroundings.
Serving
Local, short traveled food is widely used, such as pike, perch, reindeer and bear meat. The food is prepared in a simple but tasty way by Norwegian traditional recipes. All meals are served from a rich buffet, where among other things it's possible to get a taste of local specialties.
Svanhovd also has a separate guest kitchen that allows self-catering.
Visitor Centre Øvre Pasvik National Park
The Visitor Centre has an exhibition about the unique environment, culture and history of the Pasvik Valley and one can learn more about the virgin forest in the National park and the most distinctive bird and animal species that live here.
The Pasvik Valley shares a border with Finland in the west and Russia in the east and has the largest density of brown bear in Norway. The brown bear has a central role in the exhibition, and interactive solutions offer a modern and educational experience for the visitor.
The exhibition also examines the other protected areas in the Pasvik Valley, with the Pasvik Nature Reserve being one of them.
The unique diversity of water birds has given this reserve RAMSAR site status.
Svanhovd botanical garden
Svanhovd botanical garden, is one of three public botanical gardens located north of the Arctic Circle. The garden demonstrates the diversity of trees, shrubs, roses, perennials, utility plants and summer flowers that can grow in a continental subarctic climate. Here, visitors can expand their knowledge of flora and horticulture, or simply stroll around and kidney the sight of hundreds of plants in bloom. We also have a vegetable garden adjacent to the botanical garden.